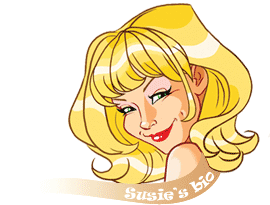 Susie's bio
Firefighter, Personal Trainer, Outdoor Enthusiast.
When I take stock of the career paths I have chosen, one thread becomes common... my drive to work in a physical environment, the dedication I feel towards helping others and the satisfaction that comes by combining those characteristics in a job I love. That was what first led me into firefighting. I fulfilled those passions and didn't have to spend my days in an office behind a desk. It was what I believed to be my destiny, that is until I began studying to become a personal trainer. In training people I am able to really channel my love of learning about the body and its incredible strengths to challenge not only my own fitness level but to attain the knowledge that helps me educate my clients how to train smart, eat clean and achieve their personal fitness goals.
Physically I have never felt stronger, mentally I have never believed in my career path more and beyond that I hope that my story and my training and my love of the body can help to inspire others to lead a healthy and full life. I strive to continually step out of my comfort zone and go for it! I'll never hold back and I know that anything is possible!!!
Phat Chicks is the forum I have been looking for to share my passions with you and even now, in its infancy, it is proving to be the adventure of my life!!